Ferries and Cruises Between Finland and Estonia
Many ferries cross the Baltic Sea between Finland and Estonia, making it one of the most busy stretches of sea in the world. The major route, linking Helsinki with Tallinn, is one of the largest in the Baltic Sea, and certainly the largest between the two countries. It is also possible to cross between Tallinn and Mariehamn (Åland Islands). There are three ferry operators currently making the crossing between Finland and Estonia, each offering something different for the passenger.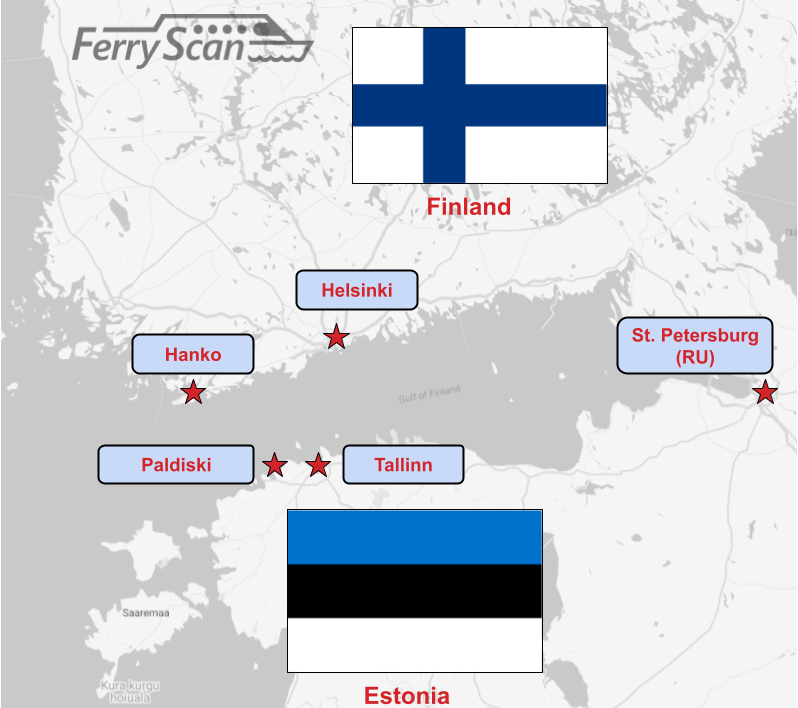 Facts + Figures
| | |
| --- | --- |
| Active Ferry Routes | 2 (See Below) |
| Major Ferry Operators | 3 - Viking Line, Tallink-Silja, Eckerö Line (See Below) |
| Crossings per Day | 20+ |
Ferry Routes
The most popular route, by far, from Finland to Estonia links the capital cities, Helsinki and Tallinn. It is usually more practical to take a ferry than fly between Finland and Estonia, and there are many options to choose from.
Route
Note
Mariehamn and Långnäs to Tallinn
Tallinn is connected to the Åland Islands in Finland via ferries to Stockholm. The ferries to Stockholm stop in the Åland Islands before continuing to Stockholm. If the ferry stops during the day, it will be in Mariehamn, otherwise Långnäs is used during the evening. These ferries are infrequently operated by Tallink-Silja and Viking Line, depending highly on the season.
Helsinki to Tallinn
The most popular ferry route in the Baltic Sea, with almost hourly departures in the summer. Operated by Viking Line, Tallink-Silja and Eckerö Line.
Helsinki (Vuosaari) to Tallinn (Muuga) - Cargo Only
If travelling with a car, it is possible to travel from separate cargo-only ports in Helsinki and Tallinn, allowing drivers to bypass the city centers. These cargo-only ferries are operated by Tallink-Silja and Eckerö Line (marketed as Finbo Cargo).
Hanko to Paldiski

Discontinued

Formerly operated by DFDS Seaways for cargo traffic, though discontinued as of 2022.
Ferry Operators
There is quite a large variation in ferry operators between Finland and Estonia. There is something there for everyone. For foot passengers, you will find Eckerö Line, Viking Line, and Tallink Silja to be adequate, with large modern ships. In our experience Eckerö Line generally has the cheapest day-of or day-before fares, although you can find deals from any operator. If you are travelling between Finland and Estonia frequently, you can become a member of each operator's loyalty club and often get ridiculously cheap tickets (e.g. 1 eur return).
For cargo drivers and those travelling with vehicles, the DFDS crossing between Hanko and Paldiski may be preferred because they are rather small cities and there is less congestion and tourist traffic. Also from Helsinki Vuosaari, Tallink-Silja and Eckerö Line (Finbo Cargo) offer a cargo ferry to Tallinn Muuga Harbour. These ports are outside the city center, and are easier to access than the central ports.
---
Other Baltic Ferry Routes
Sweden
---
Russia
---
No ferry routes yet
Lithuania
---
No ferry routes yet
Denmark
---
No ferry routes yet
Norway
---
No ferry routes yet
---
Finding Ferry Tickets
The routes mentioned on this page can be booked directly with FerryScan! We will help you with every step of the booking process.
Search Trips Here