Ferries and Cruises Between Latvia and Sweden
Despite having a rich maritime history, there is currently only one ferry connecting Latvia and Sweden. From Ventspils in Latvia, there is a 2-3x daily ferry to Nynäshamn in Sweden. Ventspils is around 170km (100 miles) to the west of the capital of Latvia, Riga. In Sweden, Nynäshamn is directly south of Stockholm, around 50km. The ferry operates 2-3 times daily with an overnight departure always available. If traveling between Latvia and Sweden by car or foot, this ferry is likely the only possibility.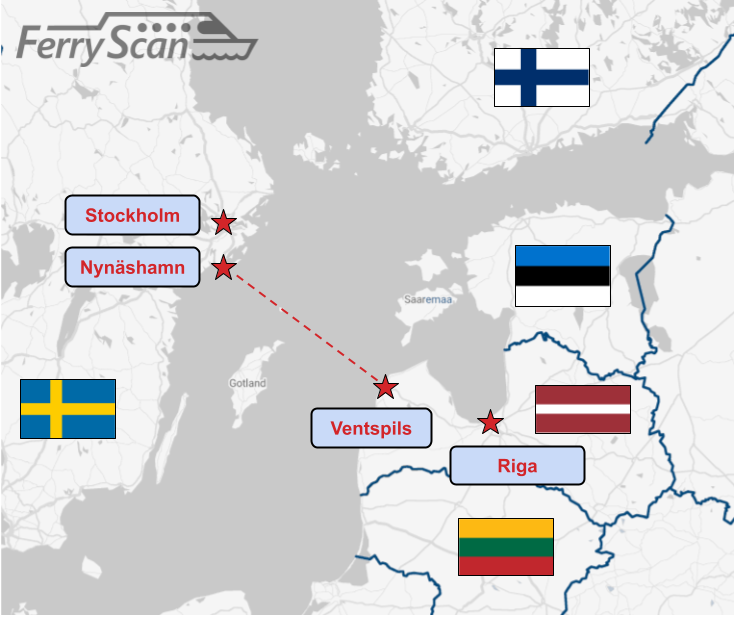 Alternative Ferry Routes
As of 2022, the only other options to get from Latvia to Sweden by car would be to travel via Klaipedia, Lithuania to Karlshamn, Sweden, or to drive to Tallinn or Paldiski (Estonia) and travel to Stockholm from there. Ferries between the Latvian capital of Riga and Stockholm have happened in the past, but currently there are none.
Facts + Figures
| | |
| --- | --- |
| Active Ferry Routes | 1 (See below) |
| Major Ferry Operators | Stena Line |
| Crossings per Day | 1-2 crossings per days in each direction |
Ferry Routes
| Route | Note |
| --- | --- |
| Ventspils to Nynäshamn (near Stockholm) | The only current ferry route between Latvia and Sweden. Operated by Stena Line with 2-3 departures per day in each direction, depending on the season. Nynäshamn is located approximately 50km south of Stockholm. |
Ferry Operators
Stena Line is the sole operator of ferries out of Latvia. Stena Line is a large ferry company with a huge variation in ships and onboard experiences. You won't have as many onboard activities like ferry operators from Finland and Estonia, however it will still be suitable.
---
Other Baltic Ferry Routes
Sweden
---
Russia
---
No ferry routes yet
Lithuania
---
No ferry routes yet
Denmark
---
No ferry routes yet
Norway
---
No ferry routes yet
---
Finding Ferry Tickets
The routes mentioned on this page can be booked directly with FerryScan! We will help you with every step of the booking process.
Search Trips Here