Ferries and Cruises Between Sweden and Estonia
There are regular passenger and cargo ferries from the Stockholm area to the Estonian ports of Tallinn and Paldiski. Ferries from Stockholm depart from the city center, as well as the nearby port of Kapellskär. Kapellskär is around 90km to the north of Stockholm itself. All ferries from Paldiski require a vehicle (a bike is also considered a vehicle as well). For passengers without a vehicle, there is an option operated by Tallink-Silja from the center of Stockholm to Tallinn directly. Other ferry operators have offered a route from Stockholm - Tallinn on a seasonal basis (such as Viking Line), though right now Tallink-Silja is the only option.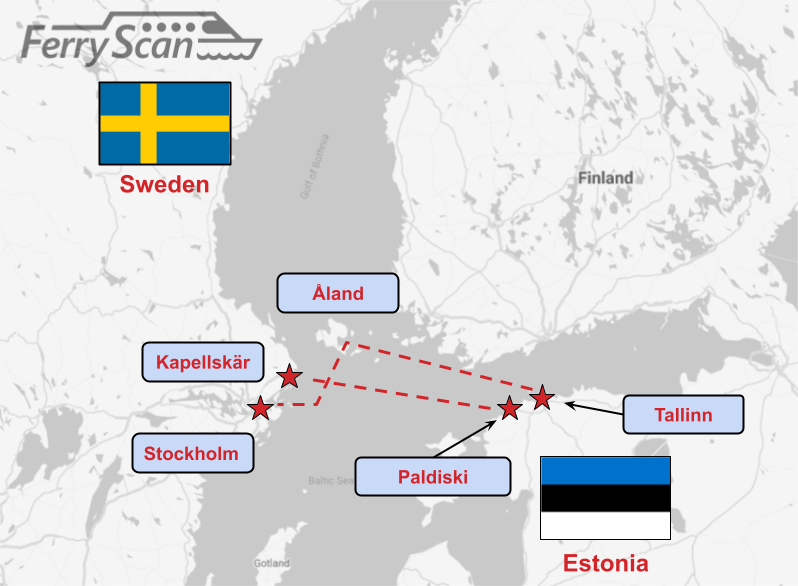 Facts + Figures
| | |
| --- | --- |
| Active Ferry Routes | 2 - See Below |
| Major Ferry Operators | DFDS and Tallink-Silja |
| Crossings per Day | 3 |
Ferry Routes
| Route | Note | Booking Info |
| --- | --- | --- |
| Kapellskär to Paldiski | Operated by DFDS and Tallink-Silja for cargo trucks, and passengers with vehicles. This ferry route is convenient for those travelling with vehicles because the towns of Paldiski and Kapellskär are located well outside of Tallinn and Stockholm. | |
| Stockholm to Tallinn | Operated year-round by Tallink-Silja and occasionally by Viking Line, also by seasonal demand. Ferries from Stockholm to Tallinn usually make a brief stop in the Åland islands. As of writing this ferry operates every-other day, though in the summer the frequency is usually daily. | |
Ferry Operators
You will find that the ferry options from Tallinn and Stockholm will be the most comfortable from a passenger perspective. However depending what you are looking for (such as truck drivers), the no-frills cargo ferries departing from Paldiski and Kapellskär may be preferable.
FAQs
How many ferries are there between Sweden and Estonia?
There are two main routes between Sweden and Estonia: from Stockholm to Tallinn, and from Kapellskär to Paldiski. Both Kapellskär and Paldiski are very near to the capitals of Stockholm and Tallinn.
Is there a ferry from Stockholm to Tallinn?
There is currently one ferry from Stockholm to Tallinn directly, operated by Tallink-Silja. Other operators such as Viking Line offer this route from time to time.
From Estonia, which ferry operators go to Sweden?
From Estonia there are currently two ferry operators going to Sweden: DFDS and Tallink-Silja.
---
Other Baltic Ferry Routes
Sweden
---
Russia
---
No ferry routes yet
Lithuania
---
No ferry routes yet
Denmark
---
No ferry routes yet
Norway
---
No ferry routes yet
---
Finding Ferry Tickets
The routes mentioned on this page can be booked directly with FerryScan! We will help you with every step of the booking process.
Search Trips Here