St. Peter Line in "Recliner" Seats October 2019
Last Updated
---
How are the "Recliner" seats on St. Peter Line? In this post we detail our experience with the cheapest form of accommodation on M/S Princess Anastasia between Helsinki and Saint Petersburg in October 2019. St. Peter Line is the only regularly-scheduled passenger ferry between Helsinki and Saint Petersburg, and offers one of the only "visa-free" options to visit Saint Petersburg.
Introduction
If you check FerryScan carefully, you will notice that it is possible to travel between Helsinki and Saint Petersburg for as low as 20 EUR, making it a very good deal to travel the 300km between the cities. It's cheaper (by far) than plane and train, and on-par with busses (though vastly more comfortable). Also recall that citizens of any country can travel visa-free to Saint Petersburg for 72 hours with St. Peter Line, as well as citizens of select countries now having access to seven-day e-visas.
With this in mind, the cost is good, but what is a "recliner seat" and why is it the cheapest option onboard M/S Princess Anastasia? Here at FerryScan we talk the talk, and walk the walk; and so, onboard we went...
Embarkation
M/S Princess Anastasia departs from Terminal 1 of Helsinki West Harbor (Länsiterminaali T1). It is easy to reach using tram, otherwise it is around a 20 minute walk from Kamppi, or 30 minutes from the center of Helsinki.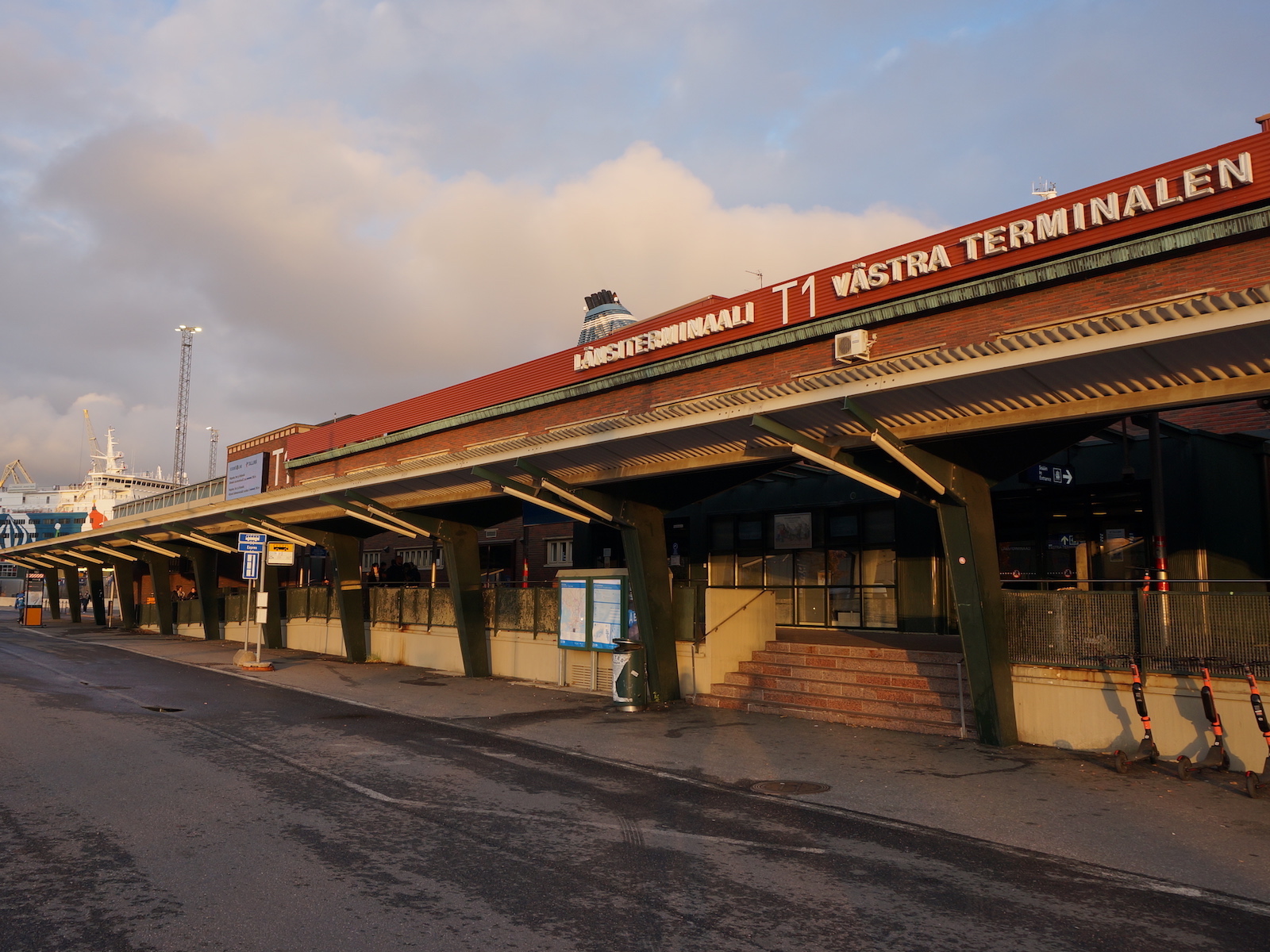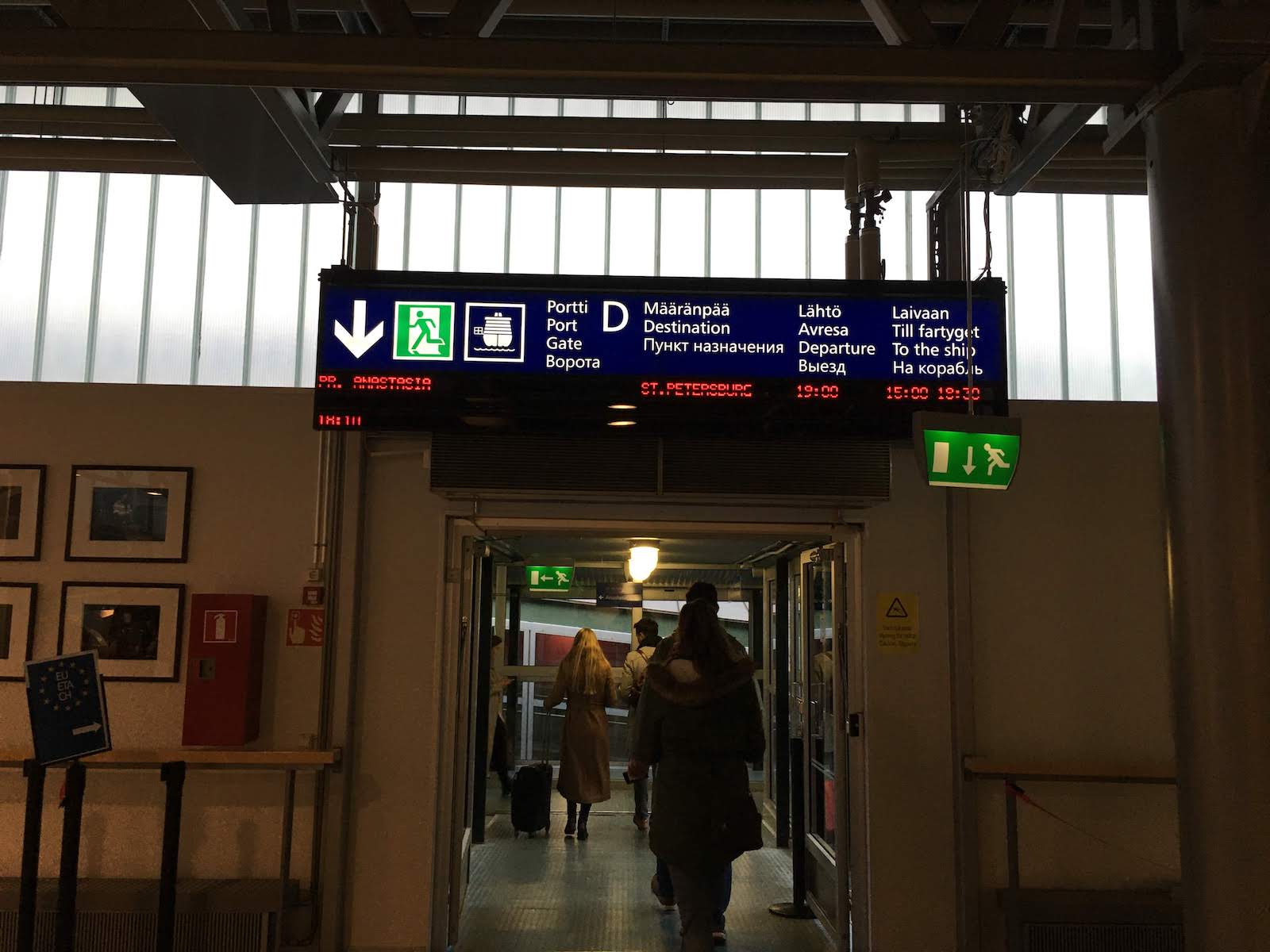 After arriving our passports were checked and boarding cards given. After that, we slipped through ticket check, immigration controls, and finally got onto the ship. We had officially left the Schengen Zone and were en-route to the Russian Federation.
Directly after boarding, we made our way to deck 8 where the recliner section was to be found. Instead we found a cinema with a sign noting that the final film finished around 23:30. Dismayed, we searched for a place to stash our baggage, but couldn't find anything. Instead we found a "side-lounge" beside the cinema and setup camp for a few hours.
Killing Time
After departure, we quickly lost mobile data and were forced to do something else. There are dinner options on decks 6/7/8, and a smaller (in comparison) duty-free shop as well where you can pick up some things to do. For entertainment, there are many options such as live shows, bars/cafes, a cinema, casino, spa/sauna etc. We chose a mixture of people-watching and watching films on our laptops. Thankfully there was an outlet nearby to charge phones/computers.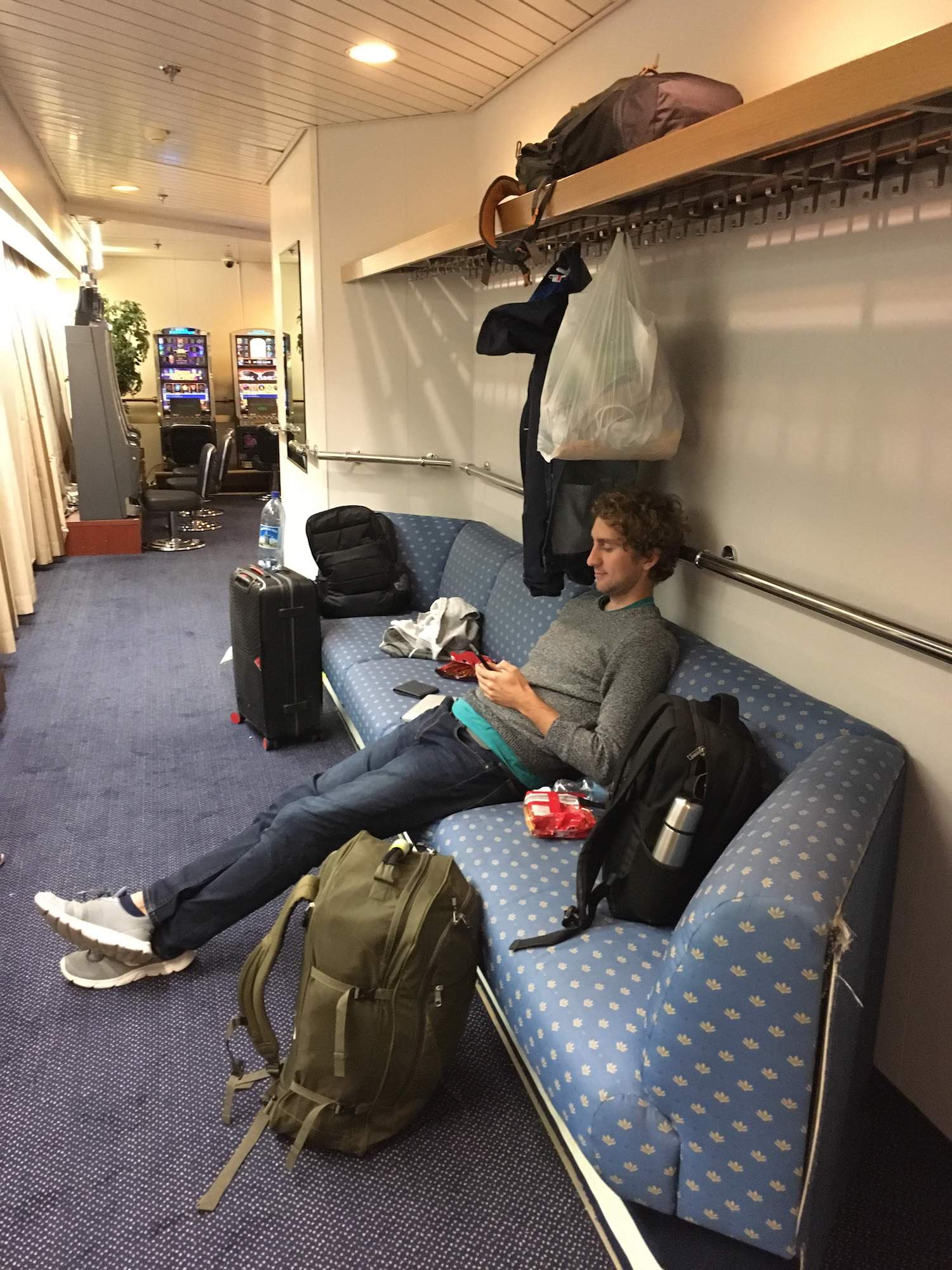 Sleeping Arrangements
Around 0:00 we moved our things into the cinema. In peak season perhaps you must sleep in one of the fold-type chairs found in the cinema, however in October there were much fewer people in this accommodation. As a result, we laid out under the seats and caught a few hours of sleep.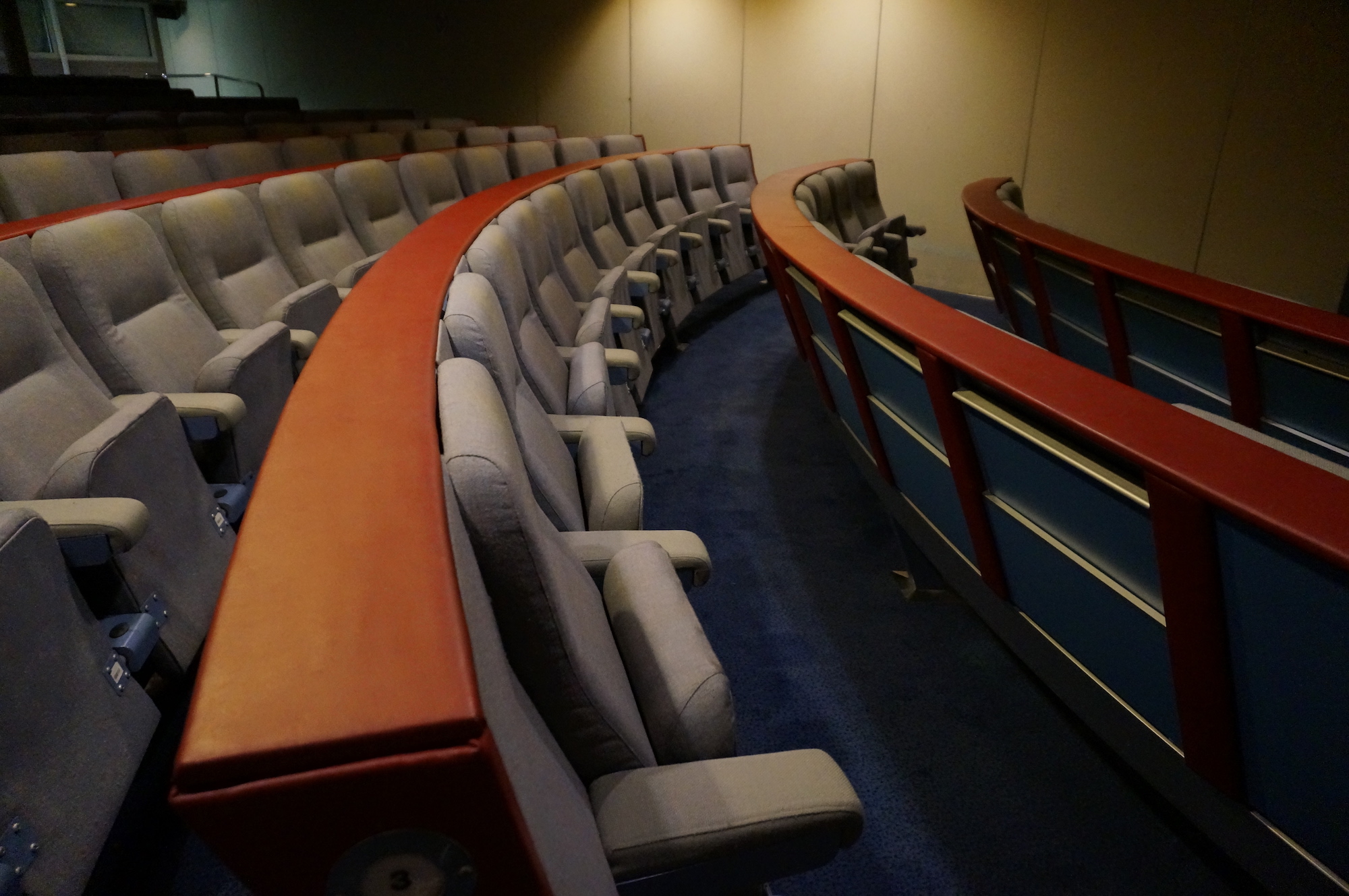 Since the ship is going quite slow (around 20km per hour), the ride was very smooth and sleeping quite fine. In reality you are sleeping in a cinema, but to their credit it was quite clean and quiet. It would have been a better experience if some simple cots were provided, or even just blankets. We'd suggest bringing a sleeping bag if you sleep cold. There was also a noticable lack of staff dedicated to our section (actually nobody as far as we know). We didn't mind because there wasn't really much to help with, but even so...
Morning
We caught 5-6 hours of sleep and woke all well. We purchased extra the breakfast in the morning and weren't dissapointed. After finishing, we went on the top-deck a bit to observe the arrival into Saint Petersburg. For the last hour of the journey, the ship traverses a shipping lane near the shore, and there are many things to look at.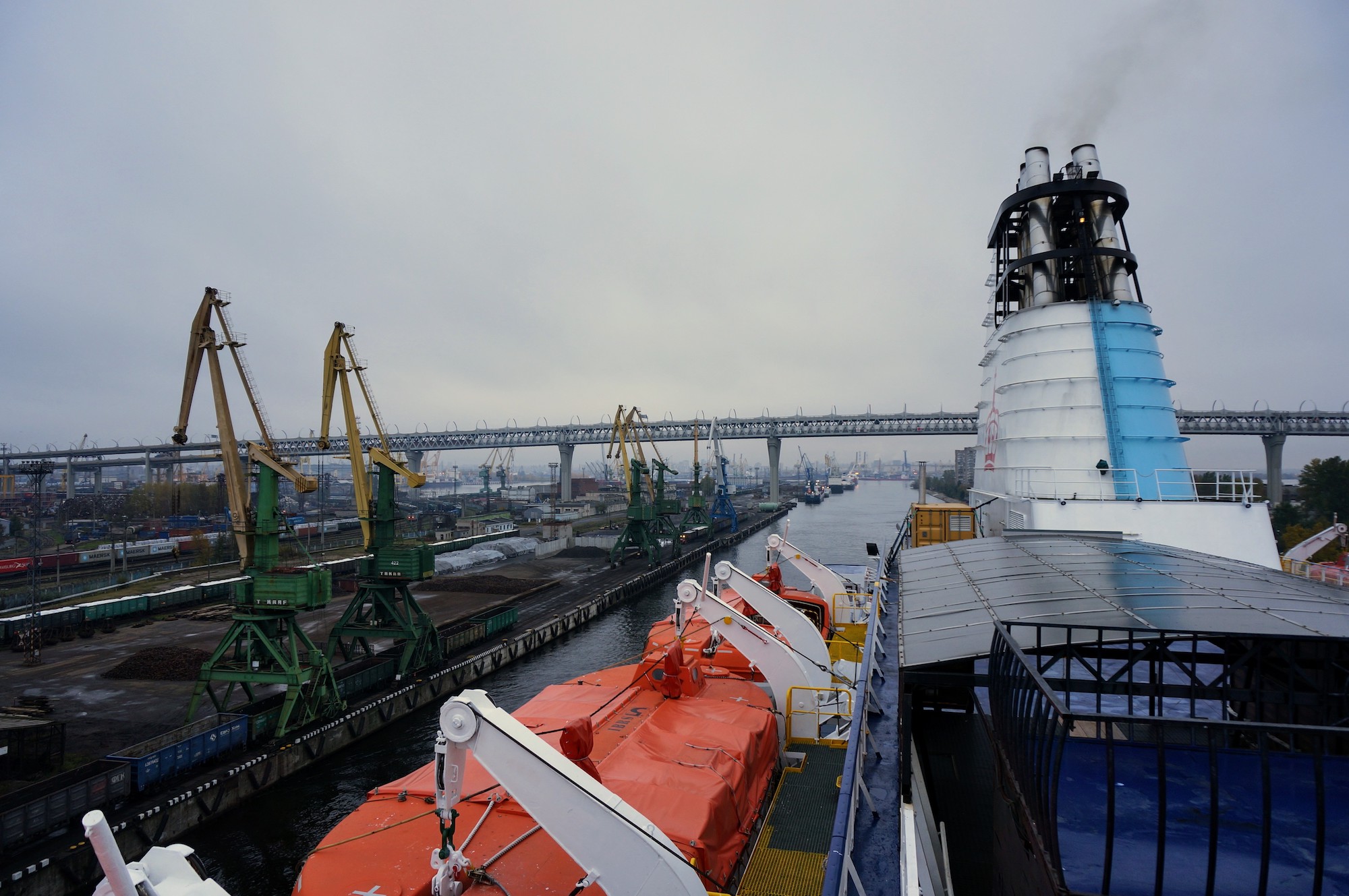 Disembarkation
Around 9 AM the ship was docked, and by 9:30 disembarkation was underway. Instead of releasing all passengers at once, it was done in stages, so as to not overwhelm the immigration checkpoint. It took us around an hour to leave the ship and complete the immigration procedures with the Russian authorities. If you've never crossed into Russia before, beware that Russian immigration officials are very meticulous and speak little english.
On the other side of Immigration and Customs, we were free. Directly after exiting Saint Petersburg (Morskoy Vokzal) Port, we found a large mass of tour operators and busses trying to round-up all their passengers who were exiting with us. If booking a ferry to Saint Petersburg under the visa-free regime, you must book an "excursion" from the ship to the center of Saint Petersburg. Since we have visas for Russia, we walked about 10 minutes before catching a bus towards the nearest metro station, 10 minutes further away.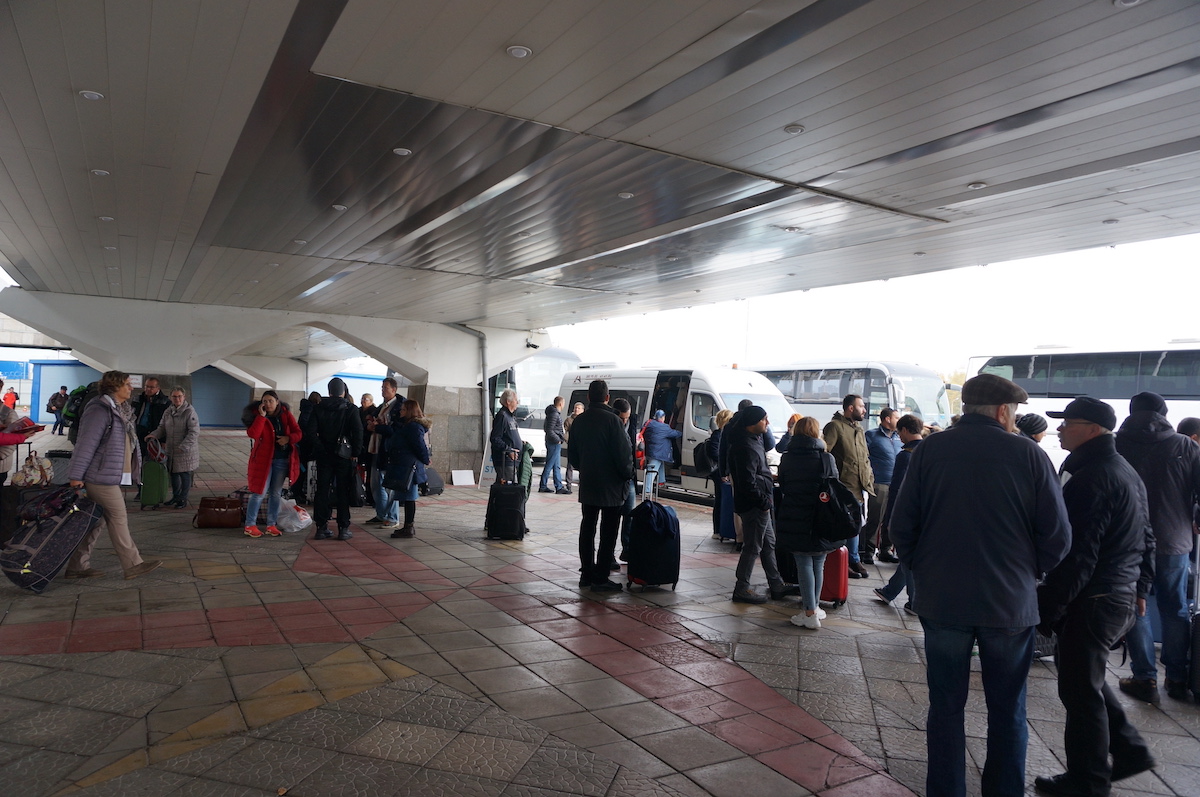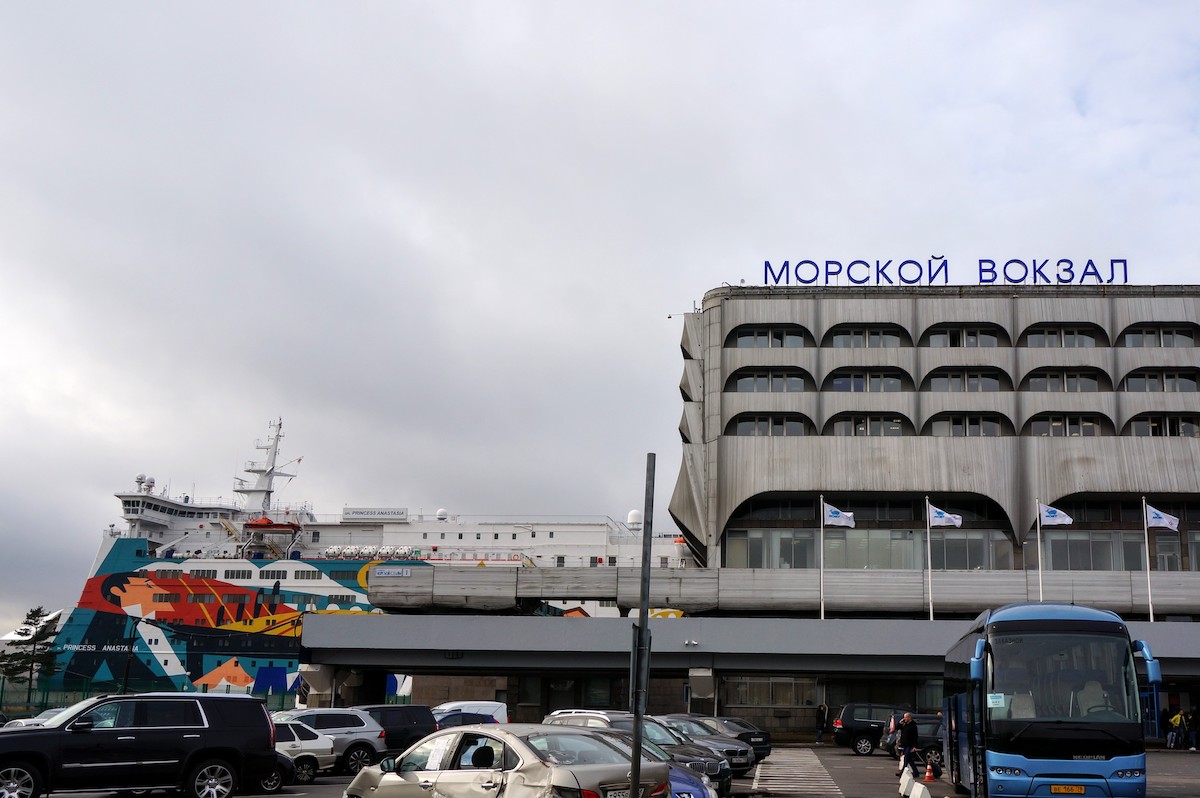 Conclusions
On a cost basis, the recliner seats on St. Peter Line make a good alternative to bus between the two cities. On the ferry you can actually get sleep, and you don't have to worry about crossing the lonely Finnish-Russian border at odd-times of the night in the cold. The ferry is also vastly more comfortable.
On a comfort basis, it really depends on you. We couldn't recommend this option for families. If you are travelling in a group of 3-4 or more, it might be more comfortable to pay a little extra and get a cabin to share. Usually, this cost isn't massive. On the otherhand, if you are coming with friends and just need a place to crash for a few hours, this would work.