Stockholm Ferry Ports and Terminals
Last Updated
---
Stockholm is a center for passenger ferry transport in the Baltic Sea, with ferries departing at a high frequency from many ports to many locations within Sweden and throughout the Baltic Sea. In Stockholm, it is especially important to take note where your ferry is departing from, because it may be near the City Center, and it may be 100 kilometers away. Despite many ports over a large region, it is usually possible to arrange a bus connection from the center of Stockholm with the ferry operator, as well as public transport options.
The following six ports are those which see regular passenger and vehicle ferry traffic in Stockholm, ordered from North to South:
Grisslehamn - A small town located around 100km from Stockholm
Kapellskär - A small town located around 80km from Stockholm
Värtahamnen - City Center
Frihamnen - City Center
Stadsgården - City Center
Nynäshamn - A small town located around 60km south from Stockholm
Let's get into it.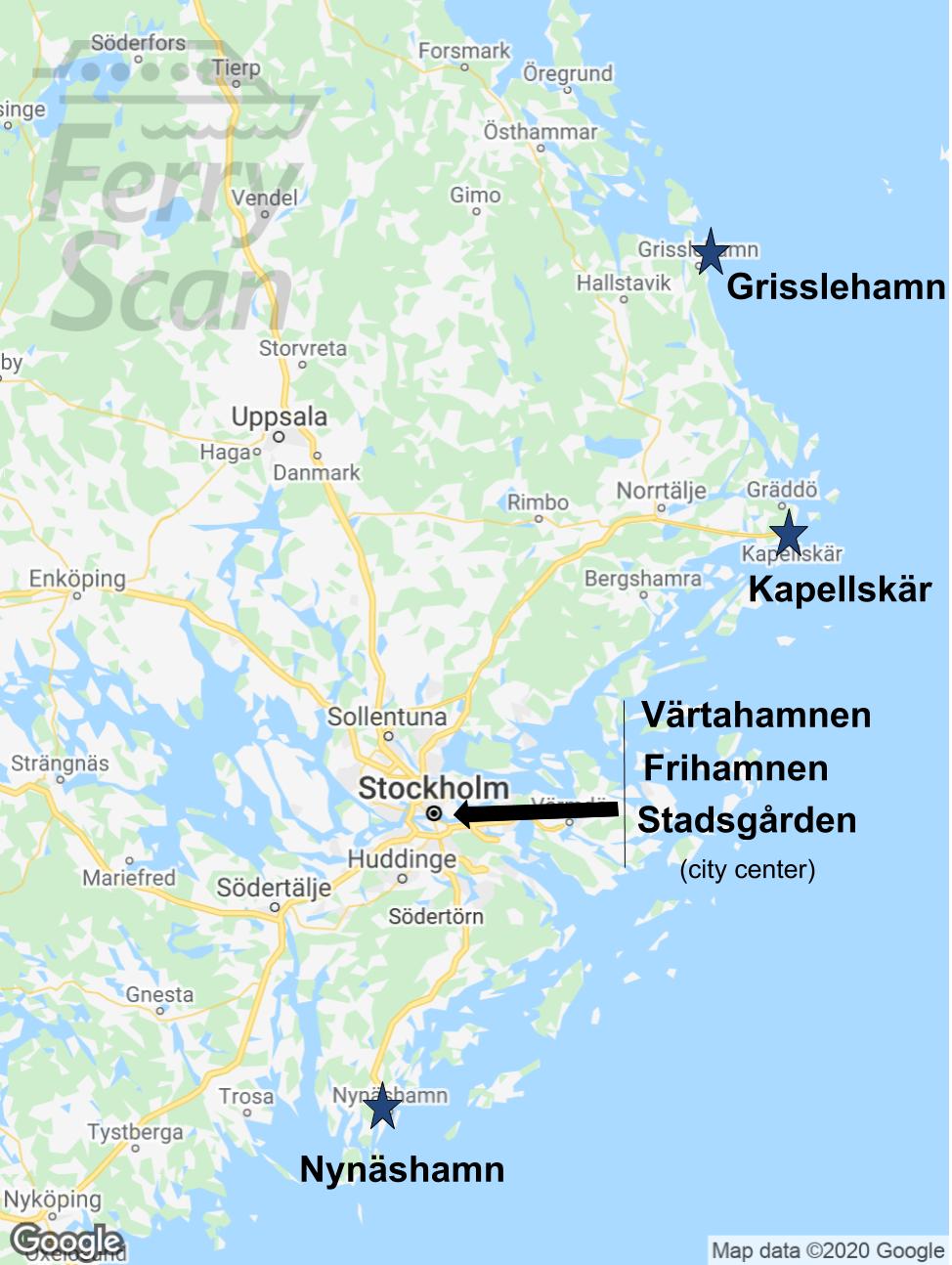 Grisslehamn
Grisslehamn is a tiny town at the very North point of Stockholm County. Grisslehamn is more than 100km north of Stockholm city center, making it the furthest passenger port to be grouped with Stockholm. Eckerö Linjen operates a daily ferry between Grisslehamn and Eckerö, in Åland (Finland).
A bus connection is offered by Eckerö Linjen, connecting Grisslehamn to Stockholm, Norrtälje and Uppsala in coordination with the departure times.
Kapellskär
Kapellskär is located more than 80km north of Stockholm center. Finnlines calls to port here, with their ships departing to Turku (Naantali) via Åland. Viking Line also has some operations from here, going to Åland as well. It is also possible to reach Paldiski, Estonia with DFDS.
Multiple bus connections are offered.
Värtahamnen
Värtahamnen is the main port for Tallink-Silja in Stockholm, with ships going to Helsinki, Turku, Åland, Riga, and Tallinn. There are transfer busses available from Tallink-Silja that go direct to the city center, otherwise take a local bus, or walk 500m to Gärdet metro, which will connect you to the center quickly. Also note that there will be hundreds, if not thousands of people heading for the bus and metro when the ship arrives, so it can be helpful to have a ticket beforehand, and to plan your route.
Frihamnen
Frihamnen is quite close to Värtahamnen, and is the port in Stockholm for St. Peter Line (ships to Helsinki and onwards to Saint Petersburg), as well as a large majority of cruise ships which visit Stockholm throughout the year. Similar to Värtahamnen, there are connection buses available, as well as the metro option.
Stadsgården
Stadsgården is the closest passenger ferry port to Gamla Stan, Stockholm's Old Town. Viking Line has operations from here, with ships departing to Åland, Turku, and Helsinki. Local buses are available, as are transfer buses operated with Viking Line. The port is located around 20 minutes from Gamla Stan on foot, and 45 minutes from T-Centralen.
There is not a convenient metro connection to Stadsgården, so bus or by foot is the only viable option. Plan ahead!
Nynäshamn
Nynäshamn is located 60km south of Stockholm. Many cruise ships dock at Nynäshamn when visiting Stockholm, as does Stena Line (with connections to Ventspils, Latvia), and Destination Gotland Ferries (with connections to Gotland).
Like the other ports, bus transfers are offered and organized by the operators to match with the ferry arrival and departure schedules. Nynäshamn also has a light-rail station, which can get you into Stockholm in about an hour.